By – Aditya Trivedi
As the news reports rocketed about India surpassing UK, the statistics and nationalism started pouring in side by side. Every Indian is proud today. Yesterday, PM Modi commissioned INS Vikrant, as the indigenous aircraft carrier proudly entered the Indian Naval Service at the Cochin Shipyard. It was a historic day in the modern history of India, i.e, Bharat. I have seen the majestic ship while I was on a trip to Kochi, Kerala. It is high time when global powers 'sea the power' of India. We have developed ourselves from buyers' navy to builders' navy.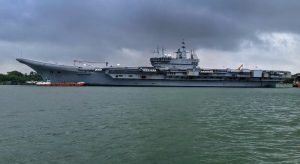 These two events, one after the another, India's rank in global economy and commissioning of INS Vikrant places India on a global centre stage. It is a historic moment, a significant achievement post colonialism. It acts as a motivation for all the developing nations and colonised countries to boost their economies. It is an achievement against the hegemony of the first world countries.
Statistics of IMF suggests that Indian economy is overtaking UK in dollar terms on an annual basis this year. The pound has fallen 8 per cent against the Indian rupee this year.India has moved from rank 11 to rank 5 since the last decade. This is the second time India has surpassed UK, first time was in 2019
As per a Bloomberg report, the size of the Indian economy with regards to 'nominal' cash was $854.7 billion during the quarter through March. On the contrary, the same for the UK was $814 billion. This was calculated on an adjusted basis and using the dollar exchange rate on the last day of the relevant quarter.This calculation is based on US dollars, with India further extending its lead in the first quarter of the current financial year, according to GDP figures from the International Monetary Fund.
If we compare growth rates of both the countries, UK is currently seeing its inflation grow by the fastest pace in four decades. According to Bank of England, it also faces a threat of a recession that may last well into 2024. On the contrary, Indian economy is forecast to grow more than 7 per cent this year.
The top 4 economies ranked above India are United States, China, Japan and Germany. According to the latest data released by the National Statistical Office (NSO), during April-June 2022, the country's gross value added (GVA), which is GDP minus net product taxes and reflects growth in supply, grew 12.7 per cent.
It is a step in the right direction to become 'developed' by 2047, as one of the goals of 'Amrit Kaal' stated by PM Modi.
(The writer is Executive Editor, Samacharline Media Group)